---
While the village of Kailua Kona itself has tons to see and do, venturing out to explore beyond is a must when visiting the Big Island of Hawaii. We put together a list of just a few of our favorite day trips from Kona that you will not want to miss. From some of the best beaches to dramatic island valley views, to quaint artist communities and farm day extravaganzas, these day trips from Kona will be sure to give you a different perspective of the Big Island.
---
Waimea, Honokaa, and Waipi'o Valley Lookout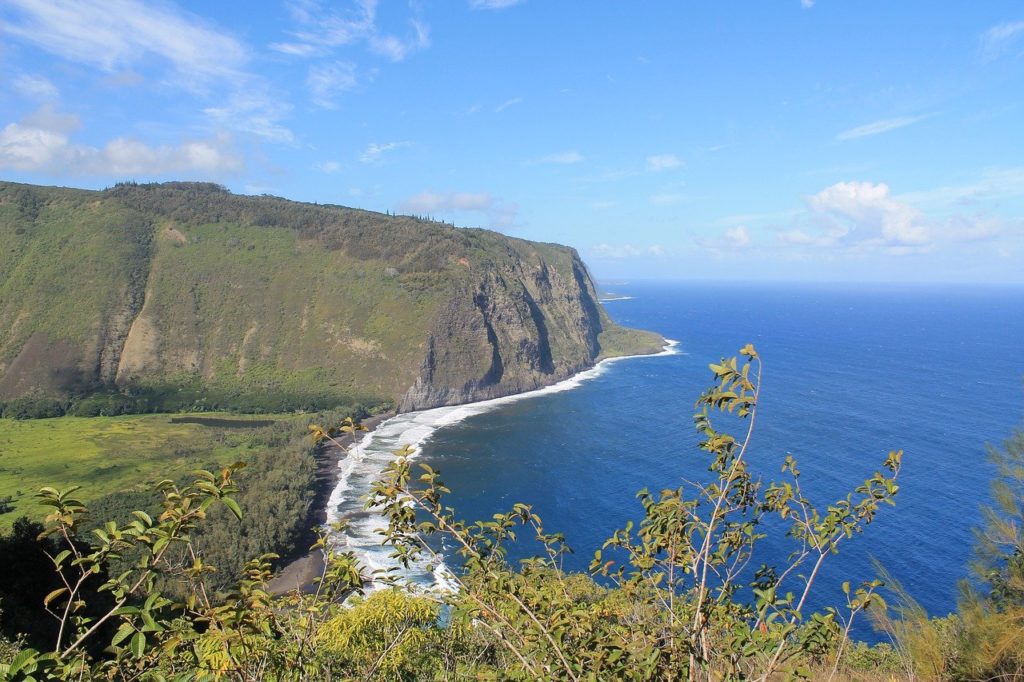 One of the most spectacular day trips from Kona is the drive up the northern Hamakua coast to the Waipio Valley Look Out. Get ready to adventure deep into Hawaiian country! This route takes you from Kona north to the little mountain town of Waimea which is right around 3,000 ft. in elevation. Begin the journey along the Hamakua Coast to Waimea. From Kona to Waimea takes about 45 minutes to an hour. This beautiful drive takes you through breathtaking open country with absolutely stunning views. There are plenty of spots to stop along the route for a bite to eat but for a special treat be sure to pay a visit to Mamane Street Bakery, one of the Big Island's top bakeries.
Here we recommend the coastal route, but an alternative is the upper mountain road which gives you the opportunity to take in the stunning views of Mauna Kea, the Kohala Mountain Range, and the coastline. The best days for the road trip are Saturdays or Wednesdays when you can catch a farmers market in Waimea.
Next, take the scenic drive from Waimea to the Waipi'o Valley Lookout via Honokaa, which takes about 40 minutes. Along the way you'll pass through gorgeous rolling pastures and from the lookout itself you can take in views of the lush valley floor covered in taro fields and long stretches of black sand beach. Take the optional hike down into Waipi'o Valley (a total length of this hike is ~6.5 miles) or go on a tour of a local chocolate farm in Honokaa. Along the main street of Honokaa you can also discover local boutiques, gift shops and some really great restaurants.
---
Holualoa Town
If art and coffee are a few of your favorite things, this is one of the day trips from Kona you will not want to miss. Just south of Kailua-Kona, is the quaint artist community of Holualoa. In this picturesque village you will find many amazing art galleries as well as coffee shops as Holualoa is also located in the heart of Kona coffee country.
Meander through this charming town to discover shops filled with local art such as handcrafted woodwork, sculptures, paintings, and photography. Visit Holualoa in November for the annual Holualoa Village Coffee & Art Stroll.
---
Farm To Table Lunch at Gingerhill Farms
Embark on a fun and educational, insider's tour of a local organic farm. Set in Kealakekua, 9.9 mi from Kailua-Kona, is Gingerhill Farm Retreat. Experience the bounty in their magical tropical food forests, then, enjoy a farm-fesh lunch with breathtaking ocean views. A simultaneously restorative and educational alternative to conventional Hawaiian resorts, Gingerhill is not just a property, but also an experience.
Gingerhill Farm retreat is one of many Big Island farms located on Hawaii's sunny west side. It resides in the lush farm country that lies between Kona town and the calm beauty of Captain Cook's beaches and trails. This region is called Kona's "Greenbelt."
---
The Best Beaches
There is no shortage of amazing beaches to visit while on the Big Island of Hawaii but some of the best day trips from Kona consist of some of the best.
Hapuna Beach, Hawaii Island's Largest White Sand Beach, lies just 30 minutes north of Kona  — This beach stretches ½ mile along the Kohala coast where it is almost always warm and sunny. Here you will find plenty of parking, food vendors and picnic areas. Enjoy sunbathing, snorkeling and bodyboarding at this ideal spot for families wanting to enjoy a day of surf and sun.
Ho'okena Beach Park lies 40-45 minutes south of Kona and sits adjacent to the ruins of Ho'okena Village. Enjoy beautiful views of the open ocean, enjoy a picnic or to simply relax on the soft sand. At the north end of the beach you can rent kayaks, boogie boards and snorkel gear. There are also small stands for snacks right on the beach. Ho'okena is the perfect place to spend a few hours or an entire day.
---
Kona is the perfect launching point to explore the Big Island of Hawaii. With so many amazing day trips from Kona available you can get a true taste of all the island has to offer. Stay at Hale Kona Kai or Kona Reef to be just a hop, skip and a jump from all the action of Downtown Kona, yet close to all the nearby attractions.
🌺 💻Website: www.CasagoKona.com 🌺
📩 Email: reservations@casagokona.com 📞 Call: 1-808-466-1878
Casago Kona
75-5870 Kahakai Rd Kailua Kona, HI 96740
license # #23869
---
hawaii vacation ideashawaii vacation rentalskonakona hawaiikona vacation rentalsthings to do in kona hawaii